October 9 and 10, 2020
Lathrop Antique Showgrounds; 1-35 & 116 Hwy to 33 Hwy South
(South Edge of the Lathrop City Limits on Hwy 33)
To download flyer click here.
To download school letter click here.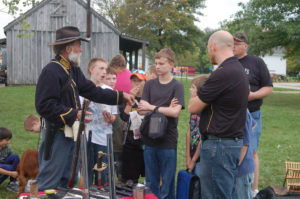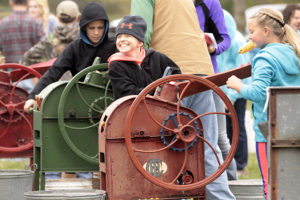 Step back into the 1800's at our annual Living History Festival! For THREE full days, you can experience the past – enjoy stirring apple butter, dipping candles, churning butter, indulge in delicious apple fritters & apple cider. Take a class in our One Room School and play old fashioned games in the schoolyard. Enjoy teepees and other demonstrations from the Indian Council of Many Nations. Don't forget to stop by our General Store for old-fashioned goodies and much, much more!
If you are interested in being an exhibitor or vendor at the Living History Festival, please click here to download an application. 
2020 Living History Festival Details
$3 Weekend Pass; 12 and Under Free
No Charge Friday for School Kids & Sponsors
• Wagon Rides
• Blacksmith Shop
• General Store
• Print Shop
• Wheel Wright Shop
• Steam Engines
• Barber Shop
• Post Office
• Native American Encampment
• Wood Working Shop
Other Demonstrations
Tractors & Gas Engines
Sorghum Making
Butter Churning
Making Apple Butter & Apple Cider
Apple Fritters
Enjoy a variety of Wood & Craft Displays throughout the showgrounds!
Demonstrations & Field Work every day of the show
• Lard Rendering
• Gold Panning
• Corn Shelling
• Well Drilling
• Candle Making
• Saw Milling
Friday
Activities All Day
Area Schools Invited
9:00am – 2:00pm Professor Farquar and Polecat Annie
9:00am – 2:00pm Presentation by Jim Two Crows (600,000 Silent Voices of the Civil War)
9:00am – 2:00pm Presentation of Abraham Lincoln by Lee Williams
1:00pm Draft Horse & Mule Parade
6:00pm Bonfire & Wiener Roast (Bring your own food)
Saturday
Activities All Day
11:00am Presentation of Abraham Lincoln by Lee Williams
1:00pm Draft Horse & Mule Parade
6:00 p.m. HOBO STEW (Bring a can of vegetables)
Alcohol FREE Environment
Not responsible for accidents
Camping Available
Shower Facilities
Area for selling and trading of new & used tack & implements Admission
For more information, contact:
Jim Plowman – General Info
P.O. Box 335
Lathrop, MO 64465
(816) 528-3511
(816) 896-5546
Sam Swindler – General Info
P.O. Box 247
Lathrop, MO 64465
(816) 740-3766